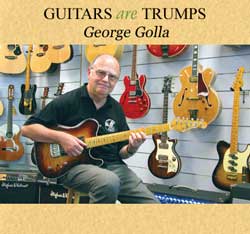 Guitars are Trumps
George Golla
"The idea behind this recording was to provide a showcase of great guitars in the hands of a great artist. There were no charts, no drop ins, just straight playing all the way." ~ Tony Tavella, Trumps Music
"After decades of playing every conceivable type of guitar I still get a thrill from these instruments. No other instrument takes the infinite variety of forms that the guitar does."
~ George Golla, guitar
These are the guitars that were used on the CD.
Song
Guitar
1. I'm Beginning To See The Light
(Duke Ellington)
Gibson L5
2. Triste (A.C. Jobim)
D'Aquisto New Yorker
3. If (D. Gates)
Gibson ES 335 '63
4. Sweet Lorraine (C. Burwell M. Parish)
Gibson Super 200
5. All The Things You Are (Jerome Kern)
Gibson L5 lead, D'Aquisto rhythm
6. Shadow Of Your Smile (J. Mandel)
Godin Multiac Jazz
7. Tennessee Waltz (P. King R. Stewart)
Maton EA80
8. I Concentrate On You (Cole Porter)
Gibson CS 336
9. Maria Elena (R. Barcelata)
G&L Asat Deluxe
10. Tenderly (W. Gross)
Gibson ES 335 '63
11. Carnival (L. Bonfa)
Martin 000-28 EC
12. This Masquerade (Leon Russell)
G&L Asat Z3
13. You & The Night & The Music
(Dietz Schwartz)
Maton Mastersound
14. Once I Loved (A.C. Jobim)
Maton Mastersound
15. Dirty Blues (George Golla)
Martin 000-28 EC
The amplifier used was the Hughes & Kettner Duotone. It remained on the same setting for all tracks.
Price of each CD is AUD$16.00, post and pack $5.00 per cd.
Ring us on 0409 995433 or Email Us